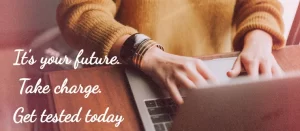 By the age of 25, 50% of sexually active individuals will contract an STI. According to the CDC, there are approximately 20 million new cases each year. They are easy to transmit if you are sexually active and testing should be a routine part of your healthcare.
A common misconception is that you will have symptoms if you have an STI. The truth is that oftentimes, there are no outward signs of infection. If left untreated, an STD can damage internal organs, and cause fertility issues, cancer, or other medical difficulties. Protect Your Sexual Health
A pregnant woman should get tested before having a medical or surgical abortion to avoid spreading the infection to other reproductive organs or potentially causing fertility problems in the future.
When you come to Crossroads, we will confirm your pregnancy and give you an STD test. We test for Chlamydia and Gonorrhea, and if you test positive, we will arrange for treatment. We will also discuss your options with you, and if you choose, can arrange for an ultrasound, so you can make the best possible choice for you and your pregnancy.
All services at Crossroads are provided to you at no cost to you. We want to be a resource and help you if you are facing an unplanned pregnancy and are curious about your options.
Make an appointment online  OR call 215-538-7003 text 215-876-3110
and begin treatment today…